Peach Street Distillers – Jackelope Gin Revisted
Wanted to repost a review we did early last year.  We just did our first video featuring the product and our great relationship with Peach Street continues.  If you haven't tried this gin yet…get on it already!!!!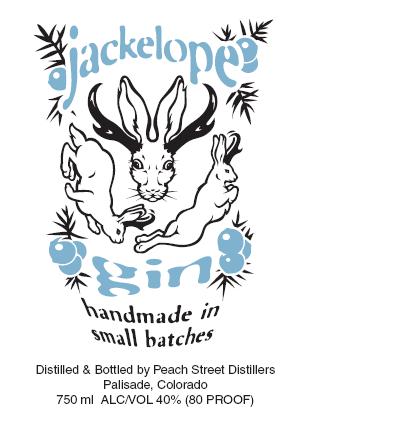 Because I have never considered myself a Gin lover I was not very excited about doing this tasting.  I even had to invite a couple of buddies over that are Gin lovers to help me put this particular Gin in perspective.  I was told by Bill, one of the owners of the distillery that Jackelope Gin had gone head to head with some of the more popular Gins around and had been coming out on Top. 
Gin starts off as a naked spirit with little more than an alcohol flavor.  What makes each Gin unique are the flavors they are infused with.  Jackelope Gin actually has a very impressive list of "secret" ingredients including several different varieties of Colorado Juniper, Coriander, Angelica, Oris root, Licorice, Lemon peel /zest, Lime peel /zest, Cassia bark.  Great Gins have a great balance with the ingredients that are infused with them.  With all of the spirits I have tried from


Peach Street
distillers it seems obvious that balance is very import to them.  If you are going to call a spirit great it has to stand up all by itself.  I think it is funny when people say, that gin is great to mix with orange juice.  Great gin's do not have to be mixed to be enjoyed.  If it tastes like crap straight up,  when you mix it with orange juice it will taste like crappy gin and orange juice. 
Matt, Carlos, Jack, and I had just got done watching one of the 89 collage bowl games and I decided it would be great if they helped me with the Jackelope Gin tasting.  I quickly poured four glasses on the rocks.  Matt, an avid gin and tonic drinker, was the first to chime in with "Man this is some good S**#."   He went on to say that he had tried a lot of different Gins through the years and Jackelope is one of the best he had ever had.  I had to agree with Matt's comments.  While I have not been a gin lover, I have tried many kinds in search of one I could drink.  Jackelope was different from the others with a soft piney essence and few citrus undertones.   Finally I have found a gin to make martinis with or just enjoy over the rocks.  Next we took the Jackelope head to head with a blue bottle of popular gin.  This time I only poured one glass of the blue stuff and one of the Jackelope, then passed them both around.  The response was undisputed.  Blue gin had a much heavier juniper edge to it and a hard alcohol bite. 
Jackelope Gin was a great discovery for me.  Many people have given me advice on what gins to try and I just hadn't found one that I like.  It just goes to show that most of us give each other advice on what alcohol to buy based on the TV ads or what is considered hip or cool.  However if you are a connoisseur of the good stuff you need to get past the hype and look for the little known distilleries that are making amazing spirits.  I will definitely keep a bottle of Jackelope Gin in my bar from now on. 
To learn more about Jackelope Gin or other great products from Peach Street Distillery, please visit them on the web at http://www.peachstreetdistillers.com/
Reviewed by: Todd
Leave a Response